What is Glas for?

Glas is a system created to help adult smokers (age 21+) and vapers live a healthier and more fulfilled life without combustible tobacco products. Our products are designed to deliver inhaled nicotine accompanied by a robust liquid experience.

Glas is a closed cartridge nicotine delivery system that consists of a battery-operated device working in tandem with Glas e-liquid cartridges, which contain 5% nicotine by dilution.
How do I use my Glas?

1. Unlock Your Device:
As part of Glas' youth prevention efforts, all new devices are locked and cannot be used until your age is confirmed. Please follow these steps to unlock and activate your device.
1. Download and open the Glas mobile application on your smart phone.
2. Login or create an account.
3. Follow the in-app instructions to unlock & activate your device.
2. Connect to the Glas App:
App features include:
Glas-Smart™ (Customize Your Experience)
Enhanced Security (Lock/Unlock, Signal/Locate Device)
Monitor Usage (Track & Map Usage)
Battery Monitor (Track Battery Life)
Tutorials & FAQ's (Device Troubleshooting)
Customer Support (Glas Concierge Service)
Easy To Use (Streamlined App)
3. Getting Started:
1. Remove the colored cap from the pod.
2. Align the air sensor on the device with the small hole on the bottom of the Glas G2 Pod, and insert the Pod into the device.
3. Take small puffs from the Glas G2 device to get a feel for the vapor production & ease into inhaling. If it feels too harsh, try to inhale less and puff more gently.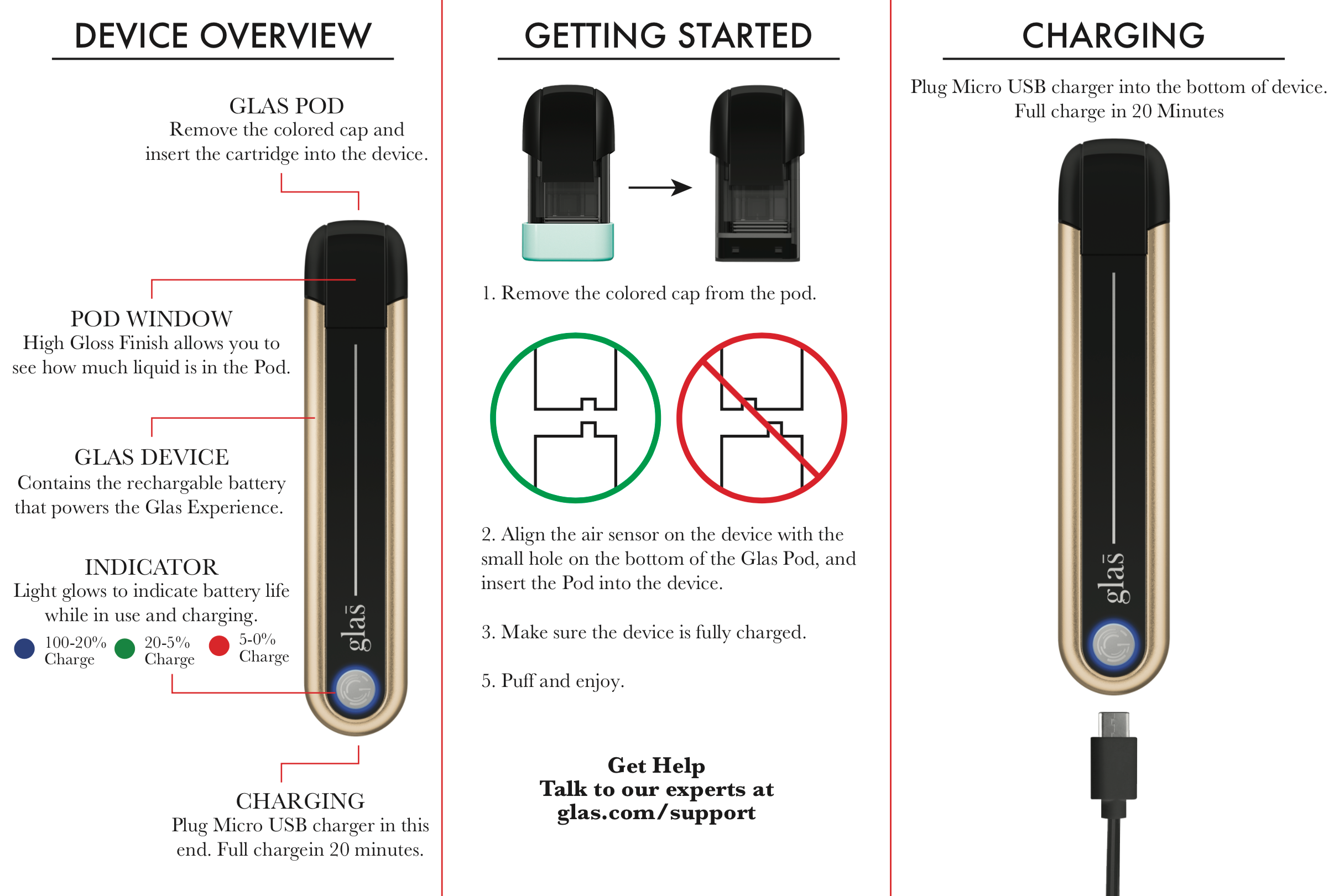 Why Glas?

Glas represents a leap forward in terms of performance and styling. From the patented quick-charge ECO battery technology, to the 1.3 ml anti-leak pods and PVD-coated anti-scratch finish, we advanced the technology in every component of the vaping experience. It was designed specifically with the discerning adult user in mind, someone who appreciates refined style, reliability, and performance.
Who is Glas for?

Glas is for adult (age 21+ vapers) looking for a more refined method of nicotine consumption with a satisfying, full-flavored vaping experience. 
Where should I keep my Glas?

When out and about, your Glas Device can be kept in your pocket, purse or other carrying method.

When not in use, keep your Glas Device in a cool, dry setting out of direct sunlight.
How do I charge my Glas?

Insert the Type A part of the included USB 2.0 (Type A to Micro B) cable into a compatible USB port, and insert the Micro B part into the charging port located at the bottom of the Glas G2 device. Device is fully charged in approximately 20 minutes. While charging, the LED indicator glows to indicate the charging status.
The appropriate operating temperature is within the range of 10° C ~ 60° C.
Working temperature range of charging and discharging:
Charging: 10° C ~ 45° C.
Discharging: 10° C ~ 60° C.

Caution when Charging
•  The Glas G2 device has an input rating of 5Vdc (USB Type A) 0.8A.  Battery capacity is 350mAH at nominal voltage 4.2Vdc.
•  This product is intended to be charged only using the included USB 2.0 charging cable (Type A to Micro B) with the following types of equipment:
       - UL Listed / certified USB charger (marked "LPS" or "Class 2"), with a rated output of 5Vdc, 0.5A min (2.5A max).
       - UL Listed / certified host computer using (5Vdc) USB 2.0 or better.
How many draws do I get in one charge?

The number of puffs, or draws, will depend on the use profile of the person puffing. Longer more intense draws will require more from the battery, as will more frequent puffs. The device was designed so that a full charge should last at least a day under typical use.